Price
€ 190.00
15% discount on all products
You pay this item € 161.50 instead of

€ 190.00

now!
This offer is valid only if you are an
End user
. It does not apply if you are a
Reseller
or a
Dealer
.
NOTE: the discount will show up in the shopping cart only once you are logged in as a registered user to the LionSteel web site.
Availability: This product is SOLD OUT. We currently have no esteem on when it will be available again.
360-degree product view
Description
SOLD OUT

Liner lock with flipper, Sleipner steel blade, steel liners. Titanium spacer. Ball bearings.

Metamorphosis handle: it is an Aluminum handle with a special coating, which is heat sensitive. Normally the handle is black but as soon as the temperature reach 22-23 °C the handle changes the colour! If you keep the knife in your hand for a couples of minutes it will change the colour from black to Camouflage.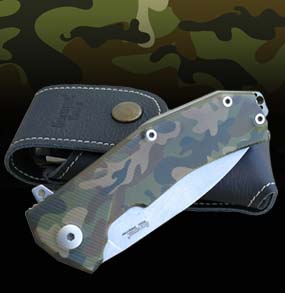 The KUR Metamorphosis is sold without clip, and with a leather sheath.
Technical specifications
Overall length: 210 mm. - 8.27 in.
Blade length: 87 mm. - 3.43 in.
Blade thickness: 4.5 mm. - 0.18 in.
Net weight: 175 gr. - 6.17 oz.
Handle: Aluminium
Blade steel: Sleipner 60-61 HRC

Other versions
KUR Wood
KUR Metamorphosis
KUR G10
KUR Black
Molletta - Pensato Michele
Michele Pensato - aka 'molletta', his nickname in Italian – is a very active designer with years of experience. His previous life as an excursion lover and a passion for archaeology had him spending most of his experiences in the great outdoors, where he soon got to understand how a great knife should really be and what it should be capable of achieving. He led the Nexus production group and the group that was created at the MCKF Forum. A keen student of the steel industry, he stands out for his new approach to the use of materials and experimentation in thermal treatment applications.
An advanced user of design software such as Catià, Solidworks, Inventor, he applies FEA to design and aims to create yet more solid and innovative products.